Chickpea, pumpkin, spinach stew with chorizo ​​and ham
Chickpea, pumpkin, spinach stew with chorizo ​​and ham
The spoon dishes they remind us of our childhood, it will be because it is the mothers who have always (we have) made an effort that nothing like a good stew to eat all those vegetables that otherwise would resist us.
Over time we have realized that they were right and how important vegetables and legumes are for a healthy and balanced diet. Today I propose this "Chickpea, pumpkin, spinach stew with chorizo ​​and ham" that if you are vegan or vegetarian by omitting the chorizo ​​and ham you can keep the rest of the recipe and still enjoy a delicious spoon dish with all the advantages it brings.
The lack of time is no longer an inconvenience to make this recipe that we can cook while we do anything else and that we can leave done the day before if, as I have done all my life, you have to cook the day before because you work outside from home, like this Chickpea, pumpkin, spinach stew with chorizo ​​and ham
In my cookbook there are several published recipes for stews with garbanzo beans, Among the most requested are the Chickpea and chorizo ​​stew and could not miss Chickpea and cod stew.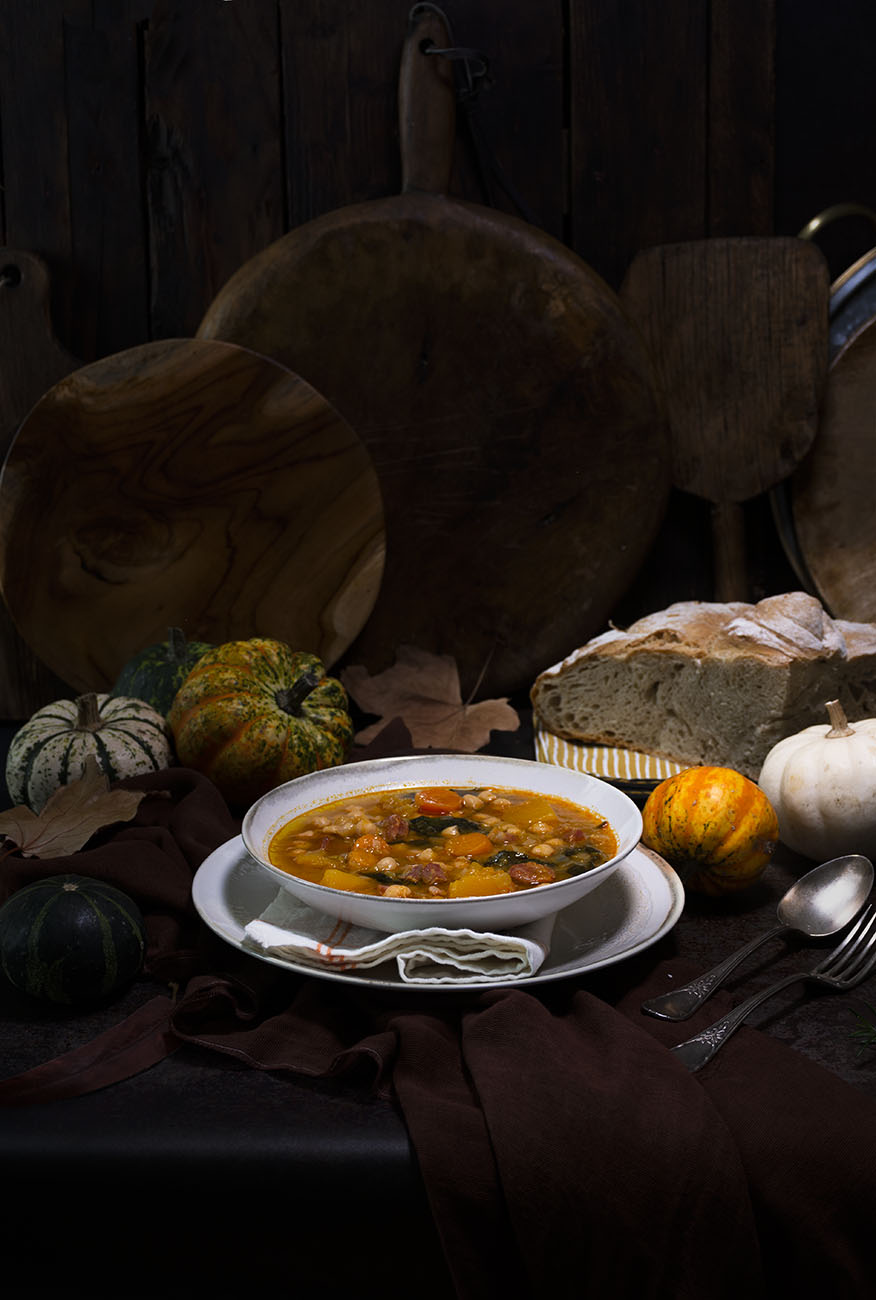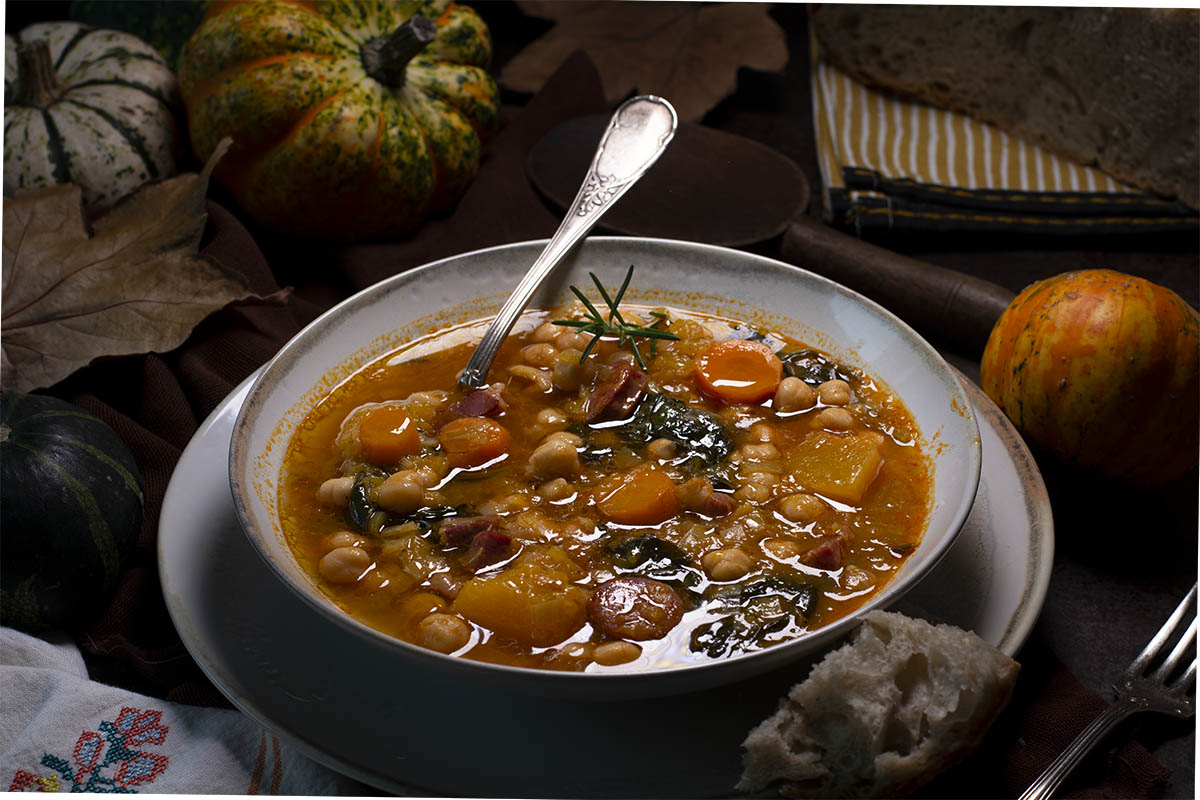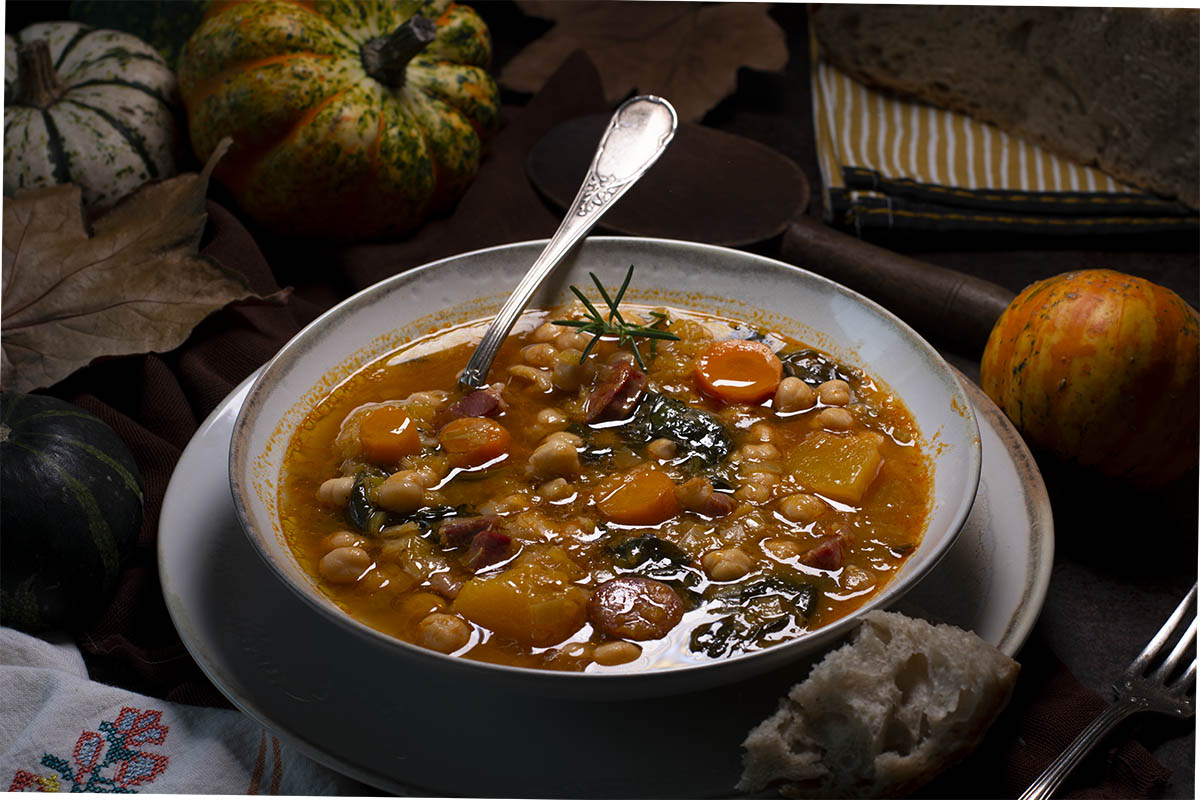 Chickpea, pumpkin, spinach stew with chorizo ​​and ham
frabisa
6-8 people
3

leeks

one

medium onion

3

cloves of garlic

one

liter of vegetable broth.

4

tablespoons of tomato sauce.

one

piece of chilli

It is optional and you must remember to remove it at the end of cooking

one

bay leaf

one

teaspoon ground cumin

A few threads of saffron.

one

teaspoon of sweet paprika

100

ml

of white wine or lager

100

gram

of ham in a piece that we will cut often or it can be already in cubes.

2

semi-cured red chorizos.

Castelao House

one

kg

200 g pumpkin, clean and cut into small cubes.

A bunch of fresh spinach

800

gram

of cooked chickpeas

4

medium carrots.

Salt

Extra virgin olive oil

the Giralda
First of all we empty the gabanzo jars in a colander and put it under the tap with running water to wash them well and get them to eliminate that ugly water from the packaging and reserve.

Sauté the finely chopped onion with the garlic in a large pot (we will need space for this stew) in a little oil, sprinkle a little salt and cook over medium heat.

While we wash the leeks well, we remove the green part and the leaves that cover it, which are always tougher and uglier. We wash the well-washed leeks under the tap, cut them very small and add them to the pot together with the onion and garlic.

We let it all be done together, we sprinkle a little salt again.

When we have everything well poached, we add the tomato, the sliced ​​carrots, and the wine/beer.

Then add the ham cubes, mix and add the saffron, paprika, cumin, bay leaf and chilli pepper, stir, add half of the broth, cover the pot and cook over medium low heat for about 25 minutes, remember, a good stir-fry is the base of the best stew.

Peel the pumpkin, cut it into cubes and add it to the pot, we also add the sliced ​​chorizos, sprinkle a pinch of salt, add the rest of the broth, it should cover the pumpkin, and if it does not reach it, we complete with water, leave cook 10 minutes,

After 10 minutes, we check that the pumpkin can be pierced and begins to be tender and we add the chickpeas, we move the pot on the plate so that they integrate well into the stew, we sprinkle salt,

To give the sauce a good consistency, we put a ladle of vegetables and chickpeas in the blender glass.

Then add a ladle of broth, grind and pour the mixture into the pot, raise the heat a little so that it reaches the boiling point, when it starts to boil, lower the heat a little, leave for 2 minutes

and add the clean and stemless spinach, leave them on the surface of the pot, in about 5 minutes they will be ready.

We tried again in case we had to add a little salt, we removed the chilli pepper and the bay leaf, covered the pot and let this spectacular autumn-winter pot rest for about 10 or 15 minutes before serving, this rest is great for settling all right.

I serve this stew in a vegetable bowl or in a tureen and I always water with a fine thread of extra virgin olive oil when serving, but that is a personal taste

Enjoy, it is a luxury to eat this well at home.
This stew (like most) is better the next day when all the flavors are more integrated.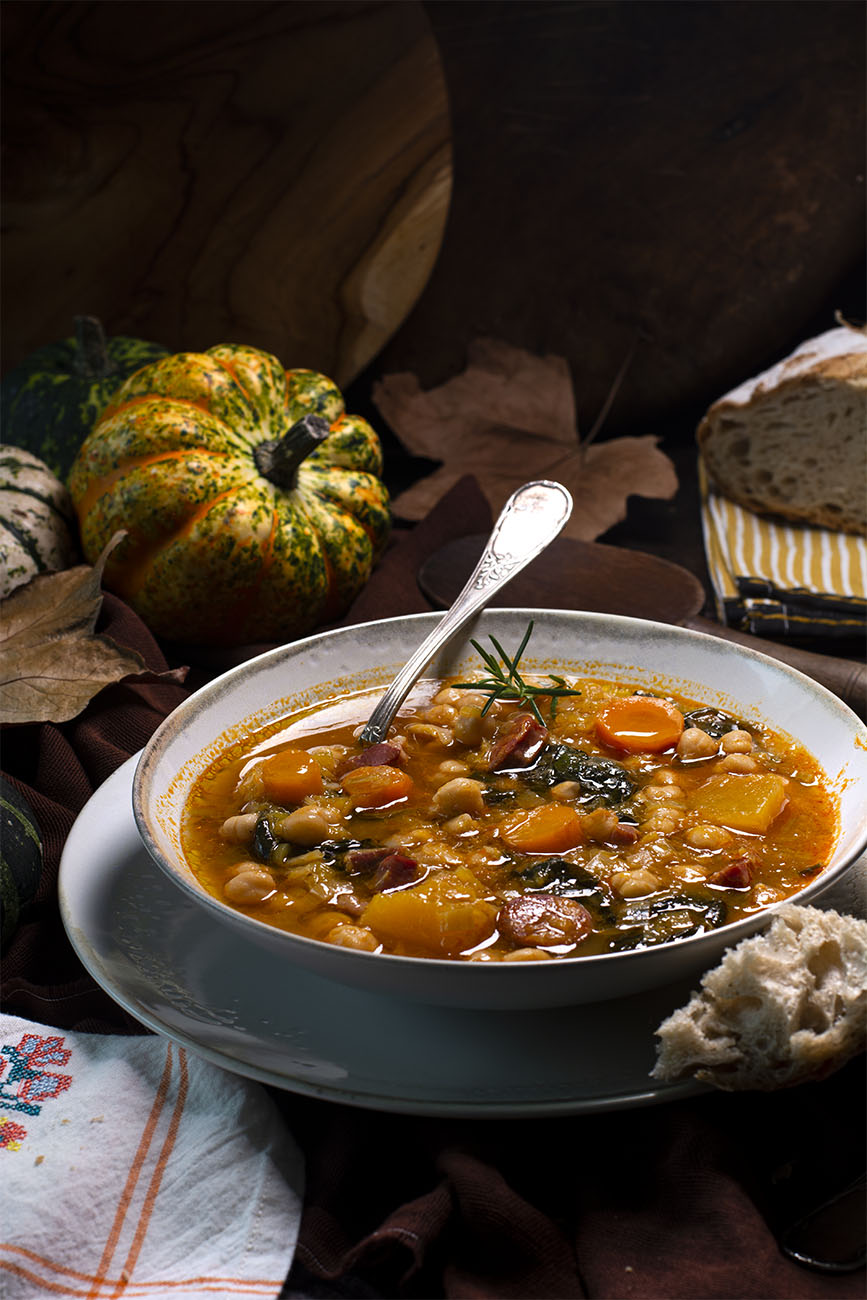 A comforting dish to temper the body and soul.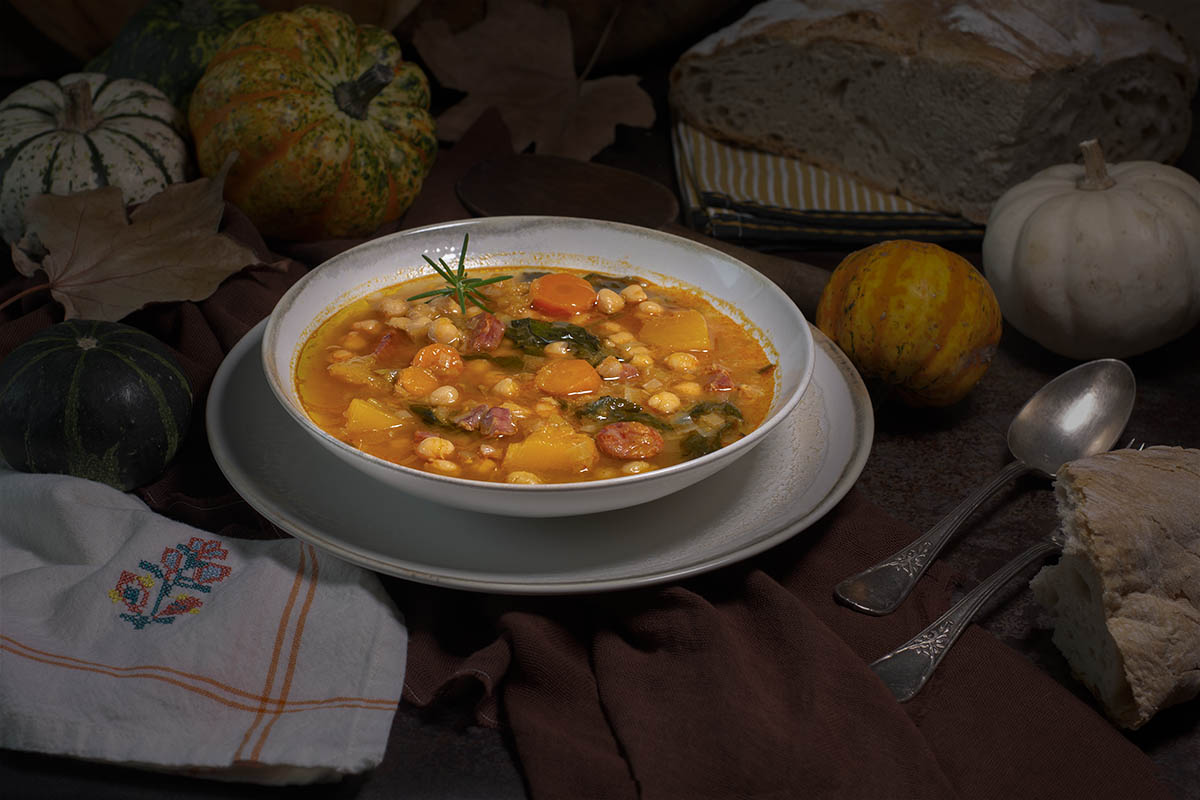 to enjoy this Chickpea, pumpkin, spinach stew with chorizo ​​and ham
OTHER SPOON PLATES
Fabes with Clams.
Stewed chickpeas with vegetables and chorizo.
Chickpea and chorizo ​​stew
Verdinas with clams and prawns
Galician tripe
Rib and potato stew
Stew with fabas/beans, rib, ham and chorizo
Pumpkin, chickpea, spinach and chorizo ​​stew
Stewed lentils with rice
Asturian stew
Stewed rib with pumpkin, lentils and mushrooms
Pumpkin, lentil and soy stew
Galician beef stew
Chickpea and cod stew