GALICIAN SWEET BREAD with orange, chestnuts and coffee liqueur.
This recipe for GALICIAN sweet bread with orange, chestnuts and coffee liqueurIt is a bit long preparation and requires some experience in kneading. Due to the amount of yolks and butter it contains, it is a recipe that is recommended to be made with a mixer. Precisely because of the above, it is more reminiscent of a brioche than a Panettone, its crumb is moist, aromatic, tender and delicious, this has a cost in time, the fermentation will be longer because the SOURDough (I used the liquid one and it is not as strong as the solid one, I give you the option of doing it WITHOUT sourdough) natural has to pull from that enriched dough and that as if that were not enough, it has fruit and chestnuts.
If you are one of those who have faith that you can achieve it because it is undoubtedly easier than traveling to the moon, I encourage you to do so because the result is exquisite.
The filling is special, it moves away from the classic Milanese panettoneor the Chocolate and orange panettonein this case the candied oranges used are homemade and the chestnuts in syrup They are also homemade, all of which leads us to a special sweet that, with the final icing, turns it into a Christmas gift that no one will forget.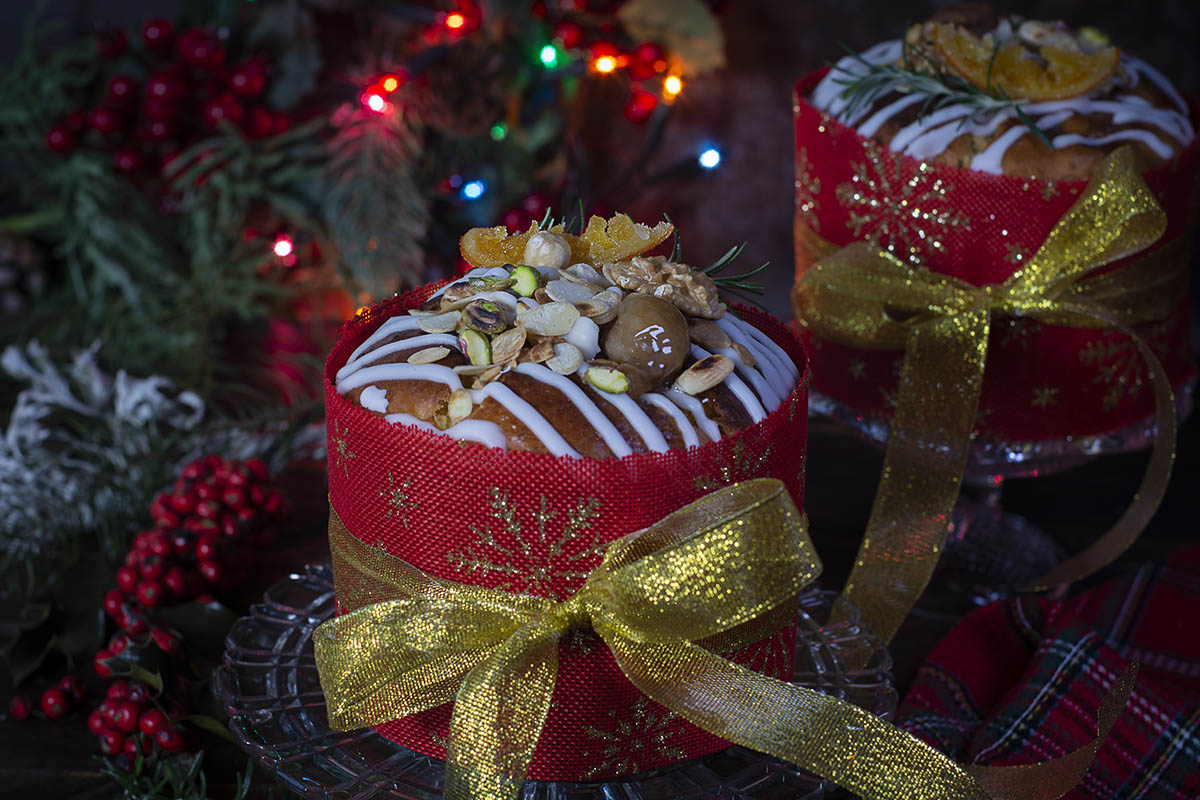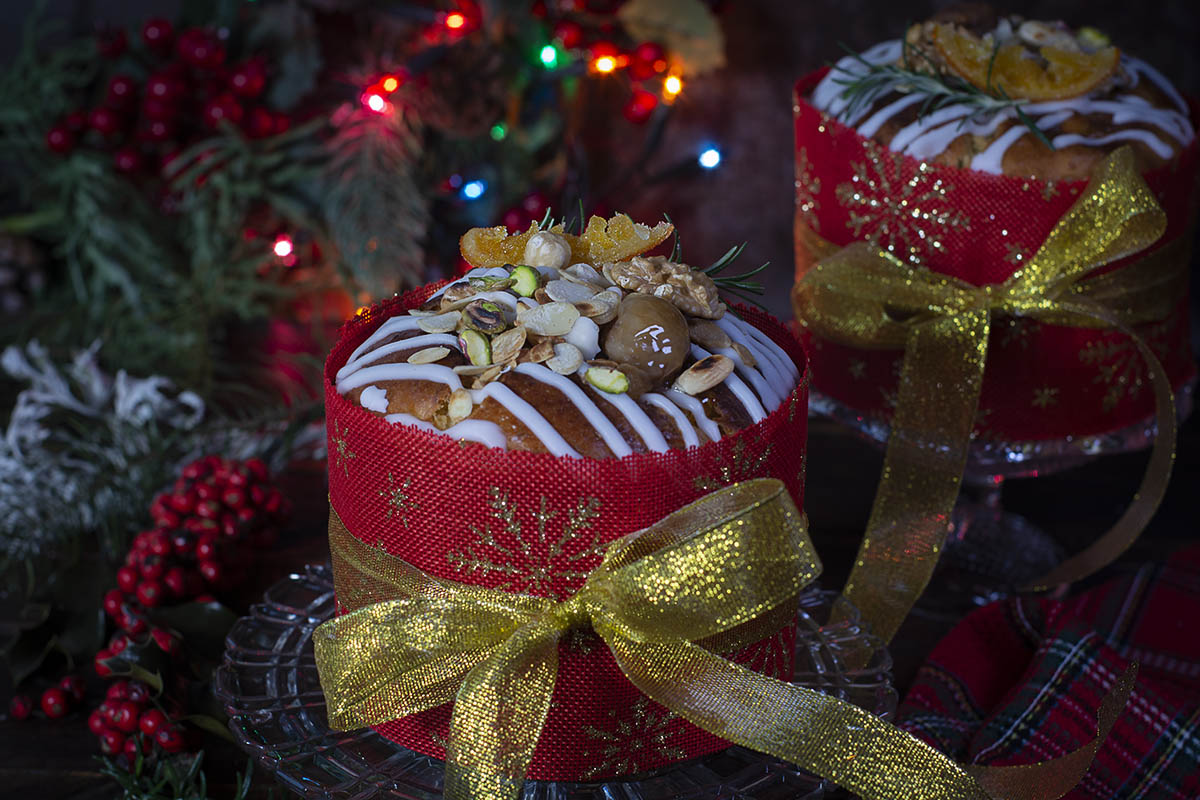 If you think about starting this adventure, I'll give you a summary of the time spent so you can organize yourself.
Saturday morning: I did all 3 steps (2 hour interval between one and the other). I stopped the process in step 3 because I had to go out, so I put it in the fridge and came back to the process about 3 or 4 hours later. I took the dough out of the fridge, followed with the main dough. I put the masses in the panettone molds and left them all night from Saturday to Sunday rising on the clothesline.
Sunday morning: the loaves continued the fermentation process until 11 or so in the morning and I baked them. They came out of the oven and went to sleep upside down until Monday morning.
Monday in the morning: Once cold I decorated them and they were ready to eat.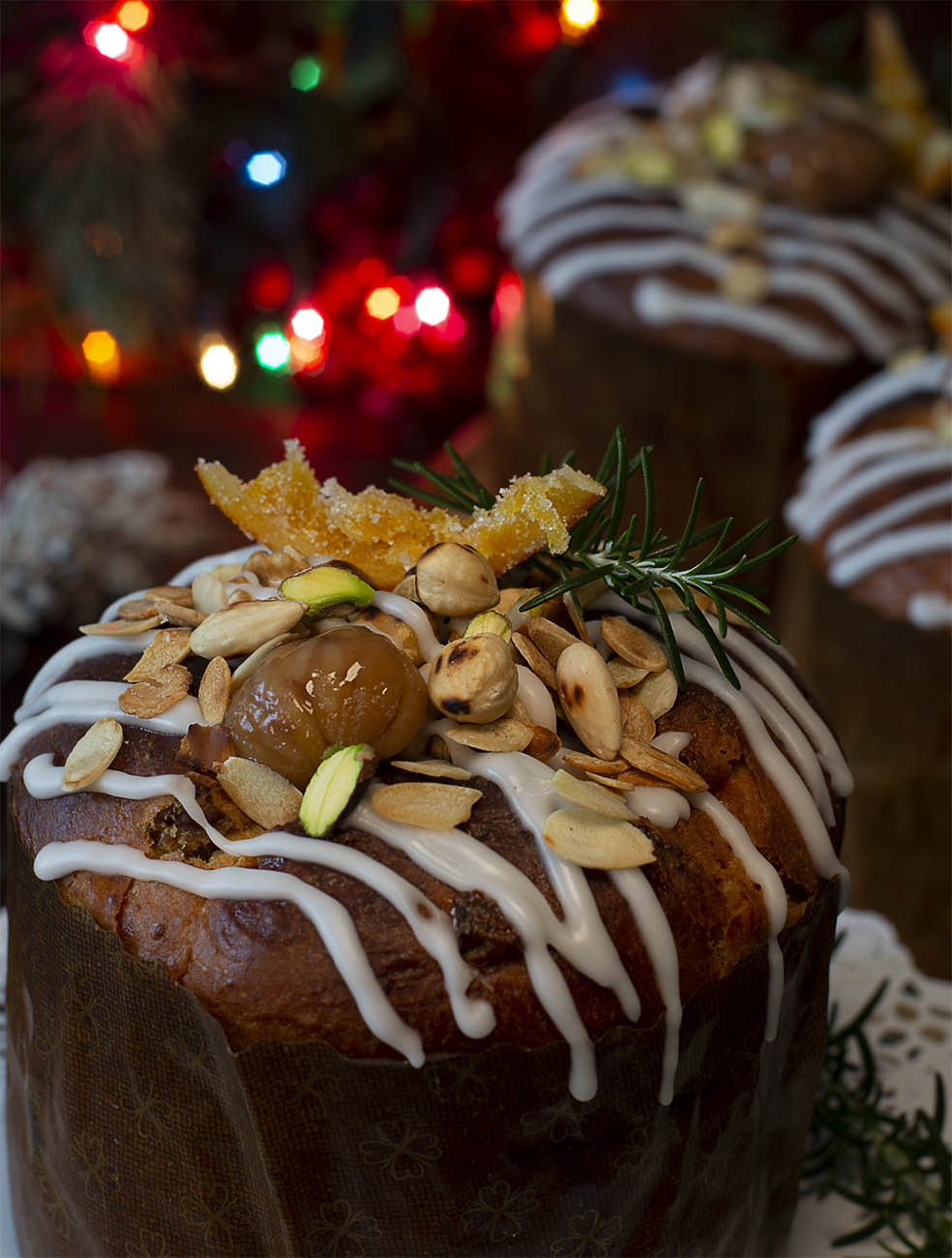 They are a handmade product, they take time, but the result is delicious.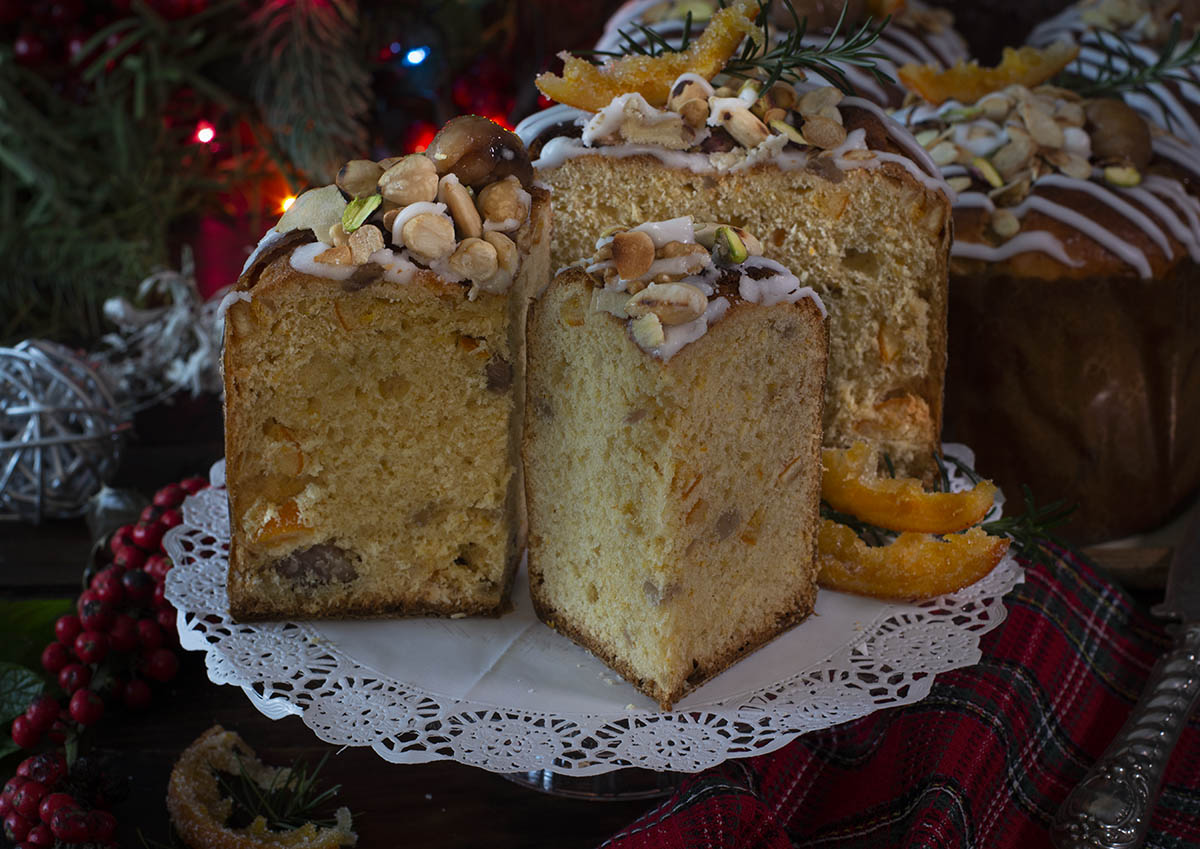 Conveniently wrapped, they keep perfectly for 10 days.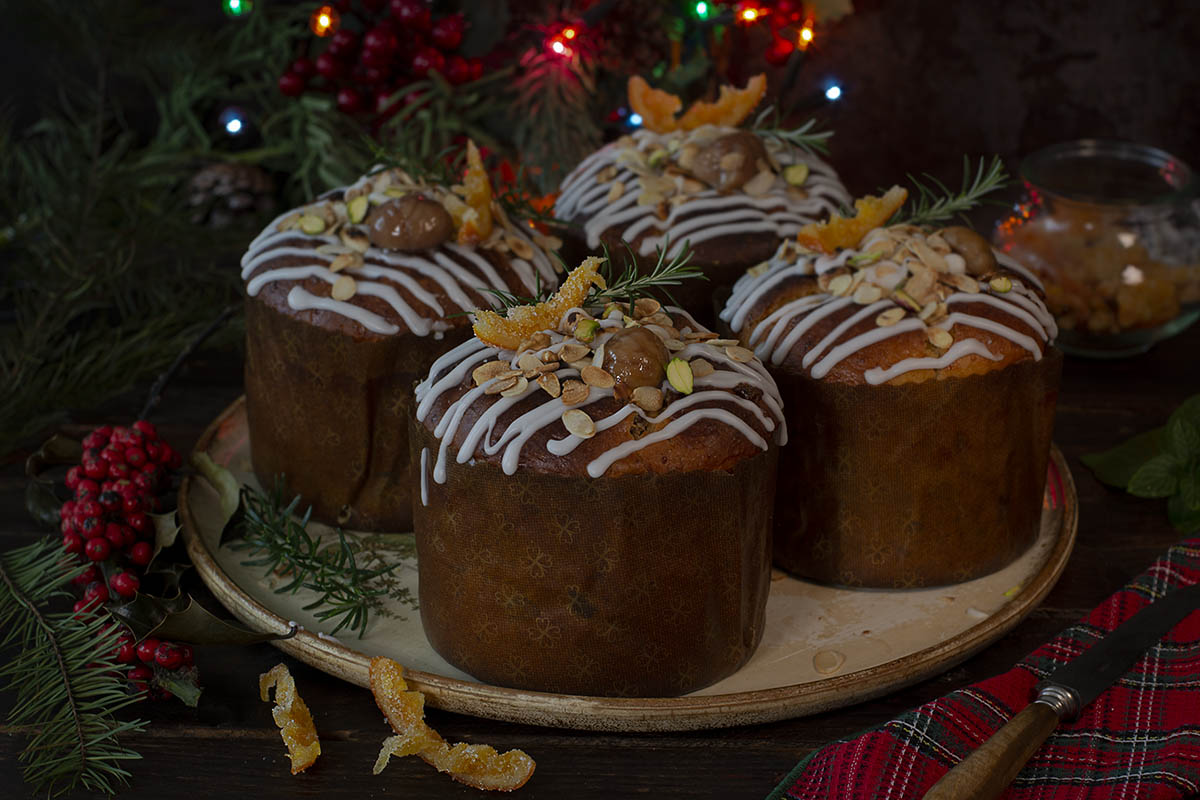 GALICIAN SWEET BREAD with orange, chestnuts and coffee liqueur.
frabisa
4 panettones of approximately 750 g each
FIRST STEP

75

gram

cold water

100

gram

GREAT STRENGTH MANITOBA flour

4

gram

dry baker's yeast or 10 g fresh baker's yeast

200

gram

of very active sourdough

recipe HERE

25

gram

common sugar

SECOND STEP

All the mass of the first step

70

gram

cold water

150

gram

GREAT STRENGTH MANITOBA flour

fifty

gram

common sugar

40

gram

of cold butter.

THIRD STEP

All the mass of the second step

75

gram

cold water

190

gram

GREAT STRENGTH MANITOBA flour

70

gram

of sugar

40

gram

of cold butter.

MAIN TIME

All the mass of the third step

300

gram

cold butter

120

gram

icing sugar

8

egg yolks L

380

gram

GREAT STRENGTH MANITOBA flour

8

gram

hallway

90

gram

common sugar

zest of 2 oranges

1

tablespoon of orange water

optional

1

teaspoon of vanilla

1

1/2 tablespoon of coffee liqueur

optional

325

gram

finely cut candied orange

290

gram

of chestnuts in syrup drained and broken with the tips of the fingers
GLAZED
To paint: 1 beaten egg + 3 tablespoons of milk.
To glaze: 150 g icing sugar and a little milk

whole hazelnuts

Whole almonds, walnuts, sliced ​​almonds, pistachios, chestnuts in syrup, candied orange. Little amount of each, we have 4 panettones to decorate, calculate 6 or 7 of each.
Before starting, Mix the 300 g of butter with the 120 g of icing sugar. You can stretch the butter between two sheets of baking paper, sprinkle with the sugar, fold, stretch again, fold again. Also another option is to break it into small pieces, sprinkle the sugar and mix by hand until well integrated and store in the fridge until we need it.

FIRST STEP

Add all the ingredients from the first step to a bowl, mix them with a spoon and then by hand, kneading for a minute, cover with a large plastic bag and leave to ferment for TWO HOURS.

SECOND STEP

Turn the dough from the first step into the mixer bowl, add the cold water, flour and sugar. Chop the butter and add the pieces of butter over the ingredients that you just put in the bowl. Mix well at rather low speed (in my case at speed 1) for 4 minutes. Let ferment TWO HOURS.

THIRD STEP

We have in the bowl of the mixer the dough of the second step, we will now add the cold water, the flour and the sugar. Chop the butter and add the pieces of butter over the ingredients that you just put in the bowl. Mix well at rather low speed (in my case at speed 1) for 6 minutes. Let ferment TWO HOURS.

MAIN TIME

We have in the bowl all the dough from the third step, add the yolks, flour, salt and sugar, mix at low speed for about 10 minutes until the dough is soft and shiny. Half of the 10 minutes I increased the speed to 3. At this point we may need to add 1 couple (no more) tablespoons of milk because the size of the eggs is not always the same.

We must control that the dough is kneaded well but that it does not get hot, so it is convenient not to knead too much.

Remove the mixture of butter mixed with icing sugar from the fridge and, with the mixer running, begin to add it little by little at low speed. Continue kneading for about 12 minutes, you may need to stop the mixer from time to time to loosen the butter from the sides of the bowl as it tends to stick as long as it's not absorbed.

The dough is ready when it looks light and shiny.

Add the orange zest, vanilla and brown liqueur, knead at medium speed for 4 minutes.

Add the candied oranges and mix for just a few seconds at the lowest possible speed to prevent it from breaking.

Turn off the mixer, turn the dough onto a work surface oiled (with sunflower oil that does not add flavor) or dusted with flour, stretch the dough with your hands to form a rectangle

Sprinkle half of the chestnuts, fold the dough into an envelope and form a rectangle again, add the rest of the chestnuts, repeat the operation to integrate them.

Let the dough rest for 15 minutes, cover it with a bowl or a cloth so that it does not dry out.

Make a fold again as an envelope, let it rest for 15 minutes.

The dough now weighs 2 kg, 800, we are going to divide it into 4 pieces of approximately 700 g.

Round each of the pieces forming a ball and generating a little tension and place each of the balls in a 500 g panettone mold.

So that they do not dry out, we will put plastic bags that are loose (I put shower caps)

We will leave to ferment for 12 hours at a temperature of 8º (me on the clothesline).

We move the panettone tray to a warmer place and let them ferment for 4 hours at 23º.

We turn on the oven at 190º with heat up and down.

Paint the panettone with the beaten egg and milk.

We make a cross with a cutter or sharp knife on the surface of the panettone and put a knob of butter.

For 20 minutes, we lower to 180º and bake another 40 minutes. Halfway through baking, we are attentive and if necessary, we cover with aluminum foil.

After baking, we pierce the base of each of the panettone with a knitting needle or a skewer and hang them from 2 chairs/boxes/benches and let them cool for 12 hours.

The next day we remove the needles and decorate the panettones, although we can leave them that way.

We make the glaze by mixing the icing sugar with 2 tablespoons of milk and mix well, the consistency has to be like toothpaste. We put the mixture in a disposable pastry bag or in a freezer bag, cut a corner to glaze the surface of the panettone.

In a frying pan without oil, we put the hazelnuts, walnuts and almonds to toast a little, they are richer if we toast them a little. When it has toasted a little, we remove them to a bowl and toast the laminated almonds. Be careful because when the pan reaches temperature it burns immediately if you don't stir all the time.. Remove.

Decorate with the sugar glaze, orange, chestnuts and dried fruit. If you have a sprig of rosemary you can put it, it looks very nice and adds aroma.

You can store them in freezer bags and freeze or store at room temperature, they keep perfectly between 10 and 15 days.
- WEIGHT liquids for more security Don't have mother dough? then you must replace the 4 g of dry yeast indicated in the recipe with 8 g of dry yeast or 24 g of fresh baker's yeast. MANITOBA GREAT STRENGTH FLOURYou can get it online (El Amasadero has it) or in bulk flour stores or in the numerous mills that sell online. kneaded: I have made these panettones with my KENWOOD COOKING CHEF XL mixer, you can adapt the recipe to the robot that you have at home and that you surely know, you simply adapt the kneading times that I indicate to your robot. If you don't have a robot, you can knead by hand, if you want to have an idea of ​​how to knead a dough with eggs and butter by hand, you can see a VIDEO that I made kneading a roscón and that you can see HERE. PANETTONE MOLDS, I used 500 g MOLDS, you can buy them online at any pastry store, you click on the search engine and they will go from María Lunarillos to Amazon. HAZELNUTS, ALMONDS, WALNUTS:I always have a bag of nuts in the freezer, freezing them prevents them from going rancid and I always have them on hand to use them because they defrost in seconds.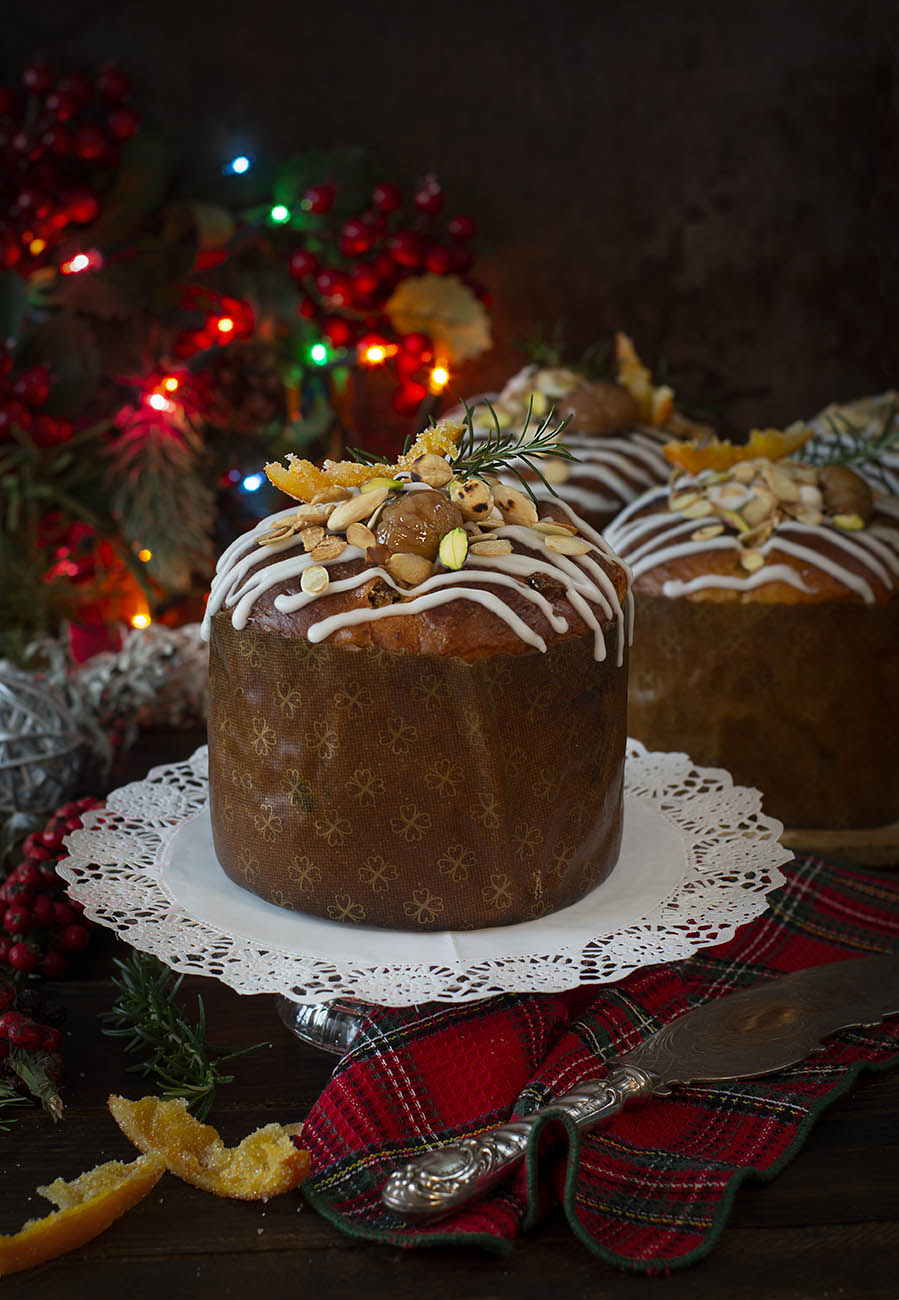 delicious and precious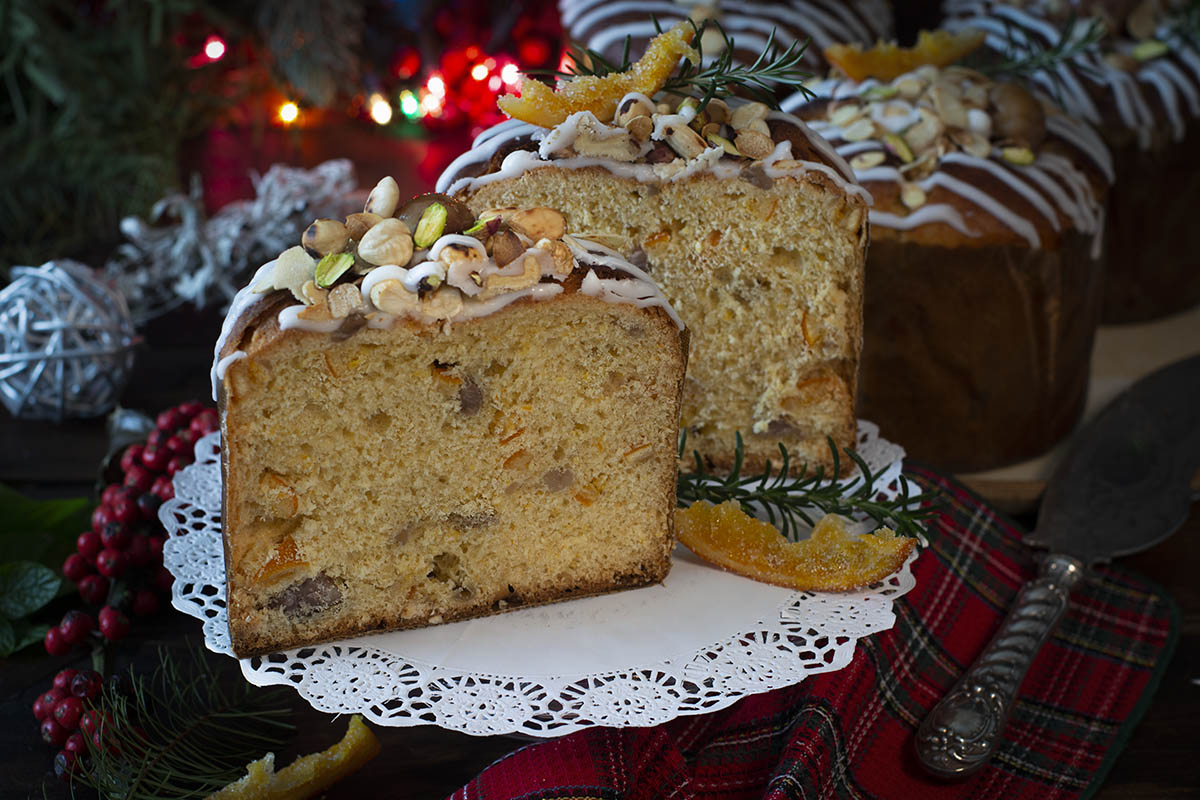 This GALICIAN sweet bread it is wonderful to make gift who you think deserves a gourmet sweet like this. Wrap it beautifully and with all the love and care, deliver this homemade delight.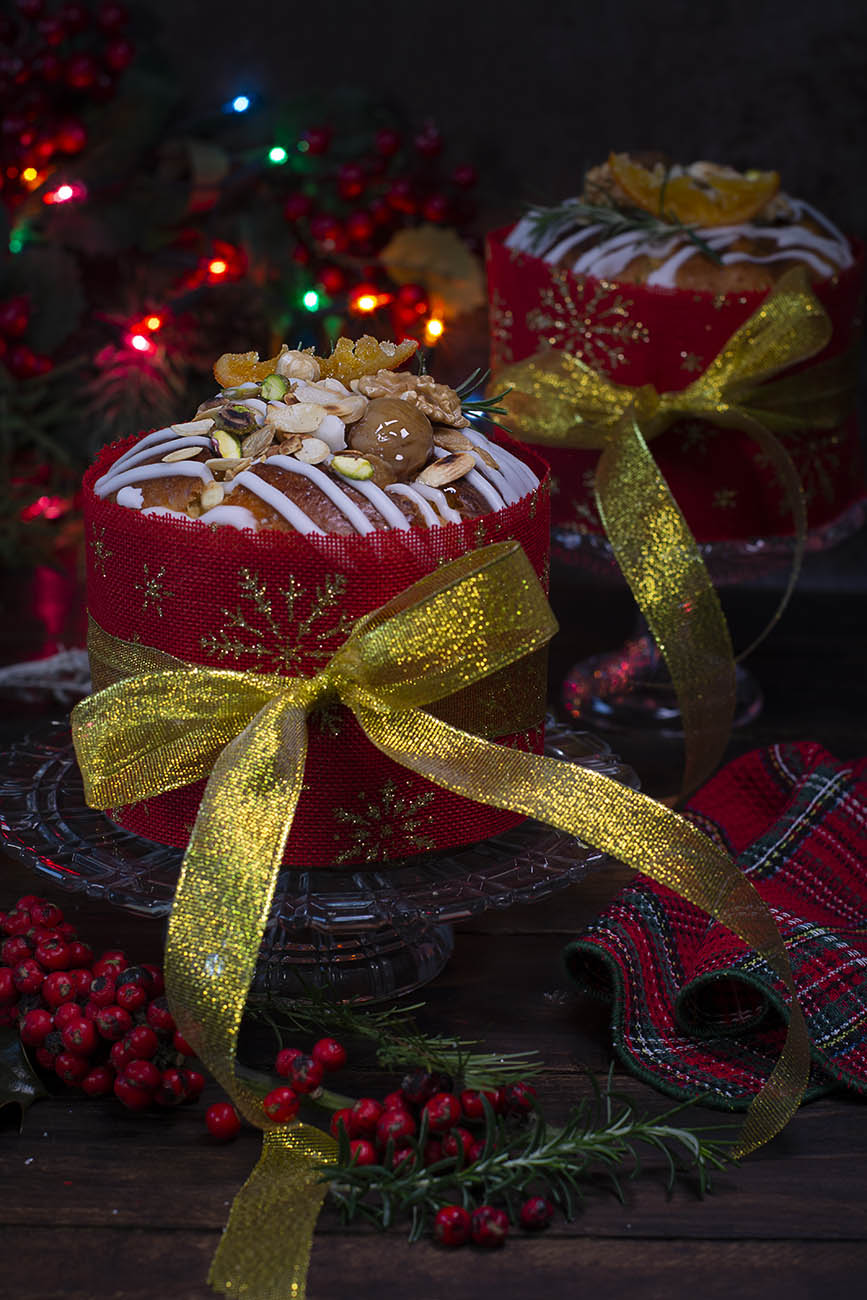 Y special sweet with which to gift our table or that of our family or friends.
RECIPES YOU CANNOT MISS
You may be interested in seeing a few sweet and savory recipes to cook this holiday season